Published in United Kingdom - First steps in eRevollution - 14 Feb 2016 09:55 - 65
Greetings citizens,
There is a new weekly event for you to play.  It works by spinning the wheel till you get to step 4 ( second box ). There you can stop and take rewards from second box by clicking stop or continue and spin it more. If you get to 6th step ( third box ), you can also stop by clicking stop there and take rewards from third box, or risk even more to get to the 4th box (8th step).
If you fail along the way, you will get a reward from first box
.
You only get 1 item from the box you win, which item is decided by random. 
If you get to Game Points (100/100) your odds will increase for that token. Each token you play increases game points by 8.
Everyone gets
2 tokens a day
, so make sure to play it everyday to get the best out of the event.
The server has been updated and optimized, it should work faster and smoother now.
New languages have also been added to the game.
Have fun,
eRevollution Team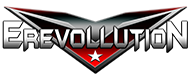 Support
Notorious
bobo