Published in Greece - Social interactions and entertainment - 01 Jul 2016 07:54 - 20
 Macedonians (Greek: Μακεδόνες, Makedónes) were an ancient tribe that lived on the alluvial plain around the rivers Haliacmon and lower Axios in the northeastern part of the Greek peninsula. Essentially an ancient Greek people

,

 they gradually expanded from their homeland along the Haliacmon valley on the northern edge of the Greek World, absorbing or driving out neighbouring tribes, primarily Thracian and Illyrian.
Although composed of various clans, the Kingdom of Macedon established around the 8th century BC is mostly associated with the Argead Dynasty, and the tribe named after it. Traditionally ruled by independent families, the Macedonians seem to have accepted Argead rule by the time of King Alexander I (r. 498–454 BC). Under King Phillip II. (r. 359–336 BC), they are credited with numerous military innovations, which enlarged their territory and increased their control over other areas, leading to the exploits of Alexander the Great, the establishment of several realms from the Diadochi, and the inauguration of the Hellenistic Civilization.


Philip II of Macedon (Greek: Φίλιππος Β΄ ὁ Μακεδών, Phílippos II ho Makedṓn; 382–336 BC) was the king (Basileus) of the Ancient Greek kingdom of Macedon from 359 BC until his assassination in 336 BC. He was a member of the Agread Dynasty, the third son of King Amyn, and Amyntas III father of Alexander the Great and Phillip III.

 
Alexander III of Macedon
 (20/21 July 356 BC – 10/11 June 323 BC), commonly known as 
Alexander the Great
 (
Greek:Ἀλέξανδρος ὁ Μέγας, 
Aléxandros ho Mégas
), was a King ) of the
Ancient Greek Kingdom of Macedon
 and a member of the Agread Dynasty.
Born in Pella
 in 356 BC, Alexander succeeded his father, Phillip II, to the throne at the age of twenty. He spent most of his ruling years on an unprecedented military campaign through Asia and northeast Africa, and by the age of thirty he had created one of the largest empires of the ancient world, stretching from Greece to northwestern India He was undefeated in battle and is widely considered one of history s most successful military commanders.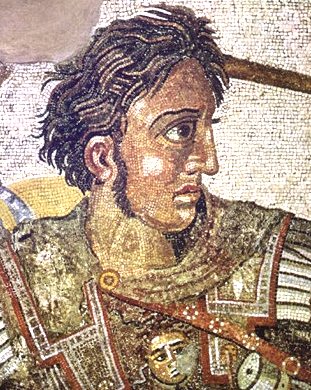 Support
Ironcode