Published in United Kingdom - First steps in eRevollution - 30 Jun 2016 02:55 - 56
Dear players,

We are proud to finally present you new payment option with Paysafecard!
From now you will be able to buy gold with cash, with simple and secure way.




With the arrival of Paysafecard we are also revealing you a new Support page eRevGame, where you will be able to buy with Paysafecard and access eRevollution's

Forum

,

Wiki

,

Blog

and new

Support System
http://www.erevgame.com/

From the site you can access Forum to search anything about eRevollution, discuss new ideas
or just talk about what you like about this game so much or would want to change.

On Wiki page you can find all the information about game, considering what each company does, how much the upgrade costs, how the war system works.

With Support Ticket System you will be able to ask anything considered to accounts, problems with the game, just like now you were able with the mail support, but with the upgrade that some questions already answered you will be able to search and get the answer instantly without the need to write to us.

Blog will you the option to read about the eRevollution itself and it's development over time.




With Paysafecard being an option for more players to buy gold, who weren't able before, we are also offering you all a 25% discount on all Companies and Workout Area from 6th to 8th July, so be sure to grab those much need upgrades you have been waiting for quarter off!




We hope you will enjoy the new additions,
your eRevollution Team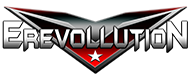 Support
Tyrael
Diamond Lady
Hadriel
CroMarko
MrRocker
Warrior
Biskvit
ZORAN