Published in United Kingdom - First steps in eRevollution - 11 Jan 2016 00:00 - 59
Hello and welcome to
eRevollution
. In eRevollution you play as a citizen of a country in
a virtual world. You start as a small, average citizen, but with hard work you can
establish your own company, have people work for you, fight in a war for your country
or even candidate for president and make big decisions in the world.
For start you should get a job and try doing your daily tasks and missions, for which you
will be rewarded with experience and different helpful items. When you gather
enough experience you will level up and be rewarded with gold, which you can
spend to quickly recover energy or buy items.
TUTORIAL - CLICK
We hope that you will have many enjoyable moments here, together with the rest of all
people in the eRevollution world.
If you have any further questions you can contact our support team here LINK, where we will
happily answer anything you want to know.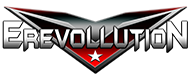 Support
SteffanoS
Mostafa FasT
BaekHyun
Waffle
padelosGR
ZutiLeptir
valashvili
valashvili
Iranian Hacker